Featured Article: Elmo Alfred Brulé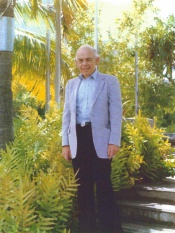 Elmo Alfred "Al" Brulé Jr., an American artist working primarily with oil and water colors, was born in Sacramento, California in 1917, the son of attorney Elmo Alfred Brulé Sr. and Sophie Theresa Bexen Brulé. While living in Sacramento, at age 12, he was already working outside the home. Brulé had a strong artistic talent which lead him to his first showing at age 14 at the Northern California Artists Annual Show held at Crocker Art Gallery in Sacramento. His schooling in California at the University of California, Chouinard Art Institute, Otis Art Institute and California College of Arts and Crafts, made it possible for him to move quickly into employment with Disney and Warner Brothers Studios, Hollywood, from 1937-1938.
In 1964, the artist moved to South Berwick, Maine, to further his career in fine art painting. During this period, he focused on painting "the disappearing America". Brulé captured images that were quickly fading from the landscape. He taught many students in South Berwick in several locations: the Counting House, Berwick Academy, the building to the right of the Odd Fellows Block, Bishop's shop (which was at the corner of Main Street and Sewall Road) and from his home on Main Street. He was invited to paint the Shakers at Canterbury, New Hampshire, the only artist ever allowed to paint them and their way of living. In May 1972, Brulé had a one-man show in Rockland, Maine at the Farnsworth Art Museum.
Read the full article on Al Brulé in our knowledge base